Bird Control
*For Solar Panel bird problems click here*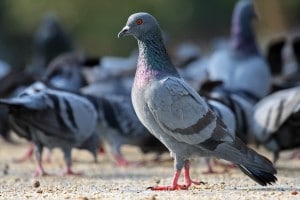 Even pigeons have rights!
Although birds are usually welcome visitors to our gardens, when they decide to take up residence on our buildings they can start to cause problems. Certain species can also cause damage and spread disease if the population gets out of control.
We aim to use non lethal methods of control wherever possible.
All UK birds are protected by law and any decision to intervene has to be made carefully. The law does allow for action to be taken but there are strict conditions and in some cases government licences to apply for.
It is illegal to
The maximum penalty that can be imposed for an offence under the Wildlife and Countryside Act - in respect of a single bird, nest or egg - is a fine of up to £5,000, and/or six months' imprisonment.
As you can see it is an extremely complex area of pest control with severe penalties for getting it wrong.
If you have a bird problem the first step to is to talk to one of our experts. We have many years' experience of dealing with birds on homes, industrial sites, listed buildings, office blocks, shopping centres, farms and many more areas
Just some of the bird control measures we employ include:
Bird Control proofing using traditional techniques such as netting, wire and spiking
Bird Control using innovative techniques - high power lasers, electric deterrents and optical gel (ideal for listed buildings)
Humane bird trapping and egg or nest removal.

Jetwashing a fire escape that was covered in pigeon droppings. We followed this with disinfection of the area.
A recent installation using optical gel on a pub plagued by pigeons. From ground level the gel is almost invisible. It is non toxic and does not harm the birds.
We also offer a full cleaning and disinfecting service. We remove old nesting material and guano (bird droppings) and use a specialist disinfectant to ensure your property is does not present a hazard to you, your staff and customers.
Jetwashing a fire escape that was covered in pigeon droppings. We followed this with disinfection of the area.
With a wide range of bird control systems available, we can recommend the best form of controlling and managing bird infestations throughout your home and work environments.
For Bird Control in Birmingham and surrounding areas call us now on 0121 364 7000.