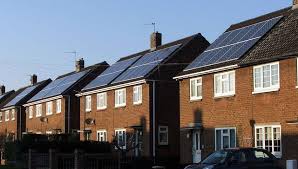 The recent massive surge in the installation of roof mounted solar panels has led to a large number of enquiries about bird issues. The panels are a long term environmentally sound investment but they can provide problems.
Birds have found that the solar panels provide the perfect safe dry environment for nesting. This cause issues with noise and droppings and can be a real nuisance to you and your neighbours. Roosting birds can also foul the panels reducing efficiency.
It appears from talking to our customers that solar panel salesmen and installers fail to mention the possibility of bird issues. It is unfortunate that the problem is not considered during installation as fitting the proofing system during the initial panel fit would be much more cost effective.
Fortunately we have sourced an aftermarket proofing system from a supplier designed specifically to exclude birds from solar panels. High grade steel mesh is clipped to the panels using unique fasteners designed not to damage the panels whilst ensuring a secure fixing.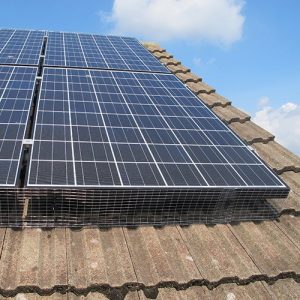 We appreciate that most people do not have the equipment or the inclination to get on their roof so we provide a total service. Prior to fitting the system we will remove nesting materials and also ensure the gutter is clear of any bird debris. This means that you don't have to do this yourself or find and pay somebody to sort out this unpleasant task.
We are confident in our work and provide a guarantee for twelve months, You can be sure you are getting a first class service.
Whats the cost?
We need to survey each job individually to assess size and what type of access equipment we need. (for example ladder, cherry-picker or scaffold. However we know its always nice to have some idea of cost before you pick up the phone and call us so as a very rough guide a 2/3 bed semi detached house with 3m x 4m panels would cost in the region of £480 inc VAT.